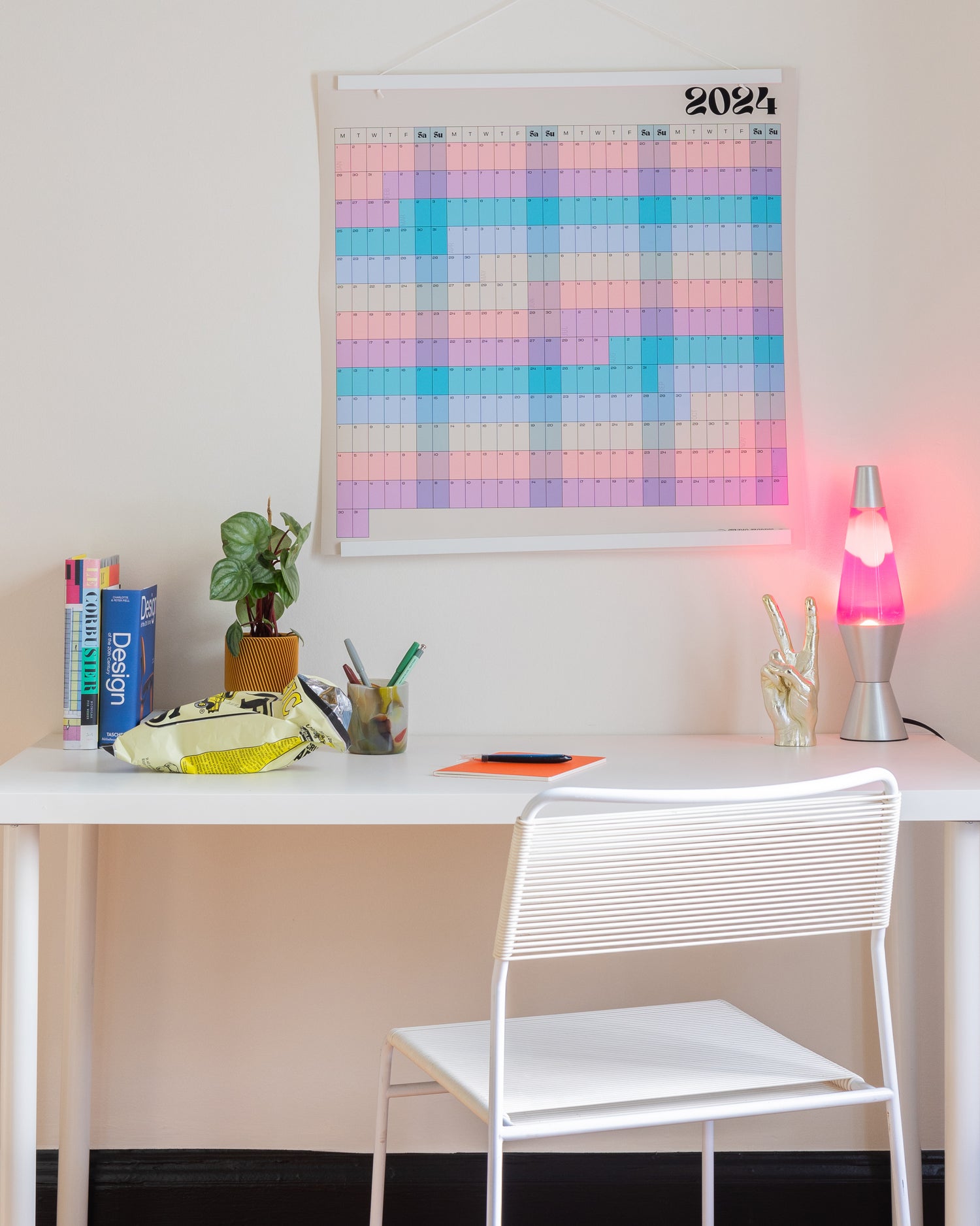 Q. Why calendars?
A. I believe products should be evidence of our beliefs and I believe time is our most valuable resource. Are we appropriately thoughtful about our relationship with time and how we spend it? I know from decades of experimentation that a well designed calendar and the discipline to use it in specific ways can inspire us all to be aware of and claim ownership of our time.
If we don't plan our own time, someone else will.
What a difference a (well-planned) year makes.
Shop Calendars
Frequently Asked Questions Top
Q. I have a smart phone, do I need a paper calendar?
A. Yes you do.
Q. Do I need more than one calendar?
A. Yes, you probably do.
Q. Is it art or function?
A. Yes.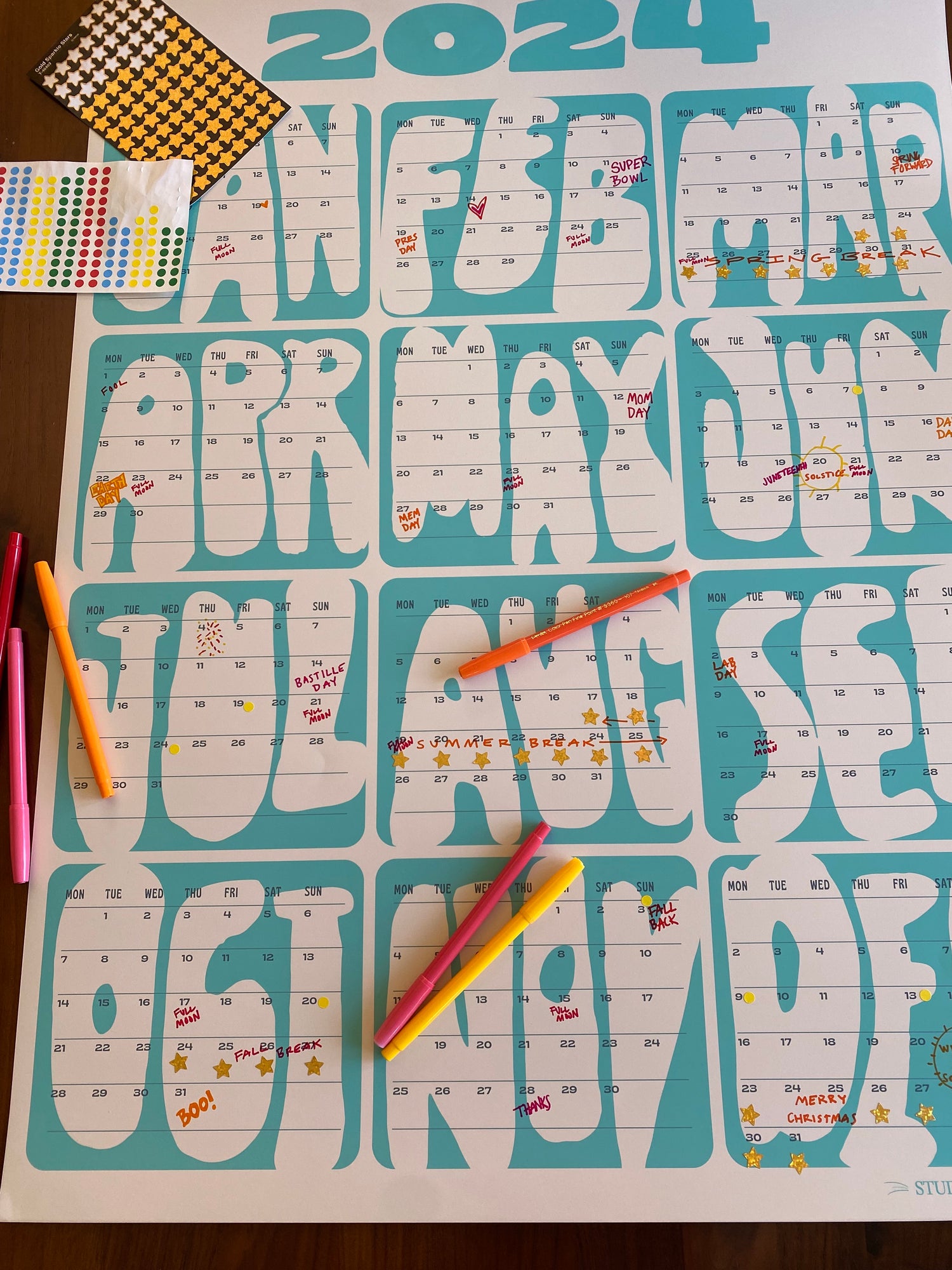 Q. How do I use it?
A. I can't wait to hear how you use yours. Please let me know!
I have two each year and use them differently. One for planning and one for remembering.
Planning - Plan your year in advance, plan your year as you go. Add celebrations (birthdays, anniversaries, graduations, weddings, date nights). Make and add important annual doctor's appointments. Plan and add vacations. Plan and add personal days off. Invite visitors to visit you, pick a date and pencil them in. 
Remembering - At the end of each day, write something that you want to remember about the day you just had. Something great, something impactful, something you are grateful for, something that made you laugh....
Frequently Asked Questions Bottom
Q. Are they good for kids?
A. Yes.
Q. Are they only for kids?
A. No.
Q. How should I hang it?
A. I can't wait to hear how you hang yours. Send pictures! I have used tacks, tape, clips, magnet frames, nails, string, sticky tack putty. 
Q. How do I get the curl out of it after removing it from tube
A. Put heavy books or bricks on each corner and leave it alone for 24-48 hours.
Q. What do I do with it at the end of the year?
A. I always keep mine, as a memory from the year. I hope you'll do the same. Or, take a good photo of it (for the memories), and after that find creative ways to reuse it (tell me what you do!). Or simply thank it and then recycle it to make room for next year's. 
Q. Is it high quality?
A. Of course. Each was locally printed to order as a fine art giclee on premium weight, uncoated paper - ensuring superior color depth, sustainability and usability.
Q. I care about the community and like when things I buy also give back in some way. Do the calendars do that?
A. Yes. One percent of product sales goes to Portland's One Percent Project - a collaboration in Portland to help end homelessness. 
Q. Can I return it?
A. No, all sales are final. But please contact us if you have specific concerns or feedback. I want to be helpful and I want you to be happy. If it arrived damaged, please email us hello@studiotigress with photos of the box it came in and the damaged product. 
Q. How can I see and buy these calendars in person?
A. Studio Tigress 2024 Calendars are coming soon to retail stores near you. Check back for official locations.
Q. I run a store and would love to carry Studio Tigress products, how can we make that happen?
A. Amazing. Thanks! Contact us directly: hello@studiotigress.com 
Q. How can I learn more about the advisory services part of Studio Tigress?
A. Email: hello@studiotigress.com, I'd love to answer all of your questions and hear about your business.